RONIN DOG TRAINING – THE COMPANY FOR YOUR WORKING DOG & WORKING DOG TRAINING.
Ronin is a Company based in Europe (Netherlands) and the US (TN Cleveland & NC Gastonia)
The core business of our company is helping you with developing and or maintaining an effective well trained
K9 unit , either a 1 team unit in a small Department upto a big city PD or  private security organizations.
We support in the training ,maintaining high level of workability and supply of working dogs.
working dogs either fully trained with an transition to the handler when time is an issue  or half trained with  handler classes. 
To be able to this we have our own breeding program , puppy program and a proven trainings method for working dogs that are going to work in 
– Police
– Military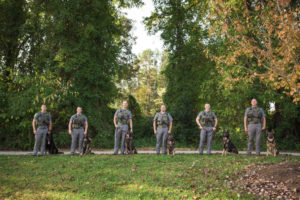 – Security
– Search and rescue
– Personal protection dogs
– Service dogs
– Special detection
Ronin started a new program   SCHOLARSHIP 
Ronin Dog Training understands that many police agencies do not have the funding to maintain a police canine program, most of which are small to midsize departments that simply do not have the budget to include this service. Criminals are keenly aware that the police do not have the resources to sufficiently protect the public from them. For most of these communities, it would only take one dog, one trained police canine to help rid the community of this criminal element.
In an effort to support these departments Ronin has set up a scholarship program specifically designed to assist in the purchase of the much needed asset of a police canine.   MAIL US !!!!!!!!