Available dogs & Handler classes
AVAILABLE IN TN US
1 GREEN DUAL PURPOSE
1 EDD Fully trained
2 GREEN SINGLE PURPOSE
ARRIVING MARCH
5 FULLY TRAINED  DUAL PURPOSE ( NARCOTICS )
3 NDD FULLY TRAINED  
All dogs are shipped from our European Kennel
Please feel free to contact us to reserve dogs for your K9 program.
In The Netherlands we have currently about 25 dogs in training to be ready for the US
This number we are maintaining so we have a constant availability of genetic good dogs for our customers
Interested ? please mail us to be put on the list for testing and purchase or maintaining your K9 program.
We have dogs And Handler-classes available in Europe and in the US.
Handler classes have 2 catogories
First:  classes with green ( half trained dogs ) with a duration of  6-8 weeks handlers class.
Example of a Green dog ready for Class
K9 Benji 
Second : Classes with fully trained dogs so the duration of handlers class goes drastically down this is for the PD's that cannot have personal of the street for a long time. (PD's that use our K9 and training support and buy fully trained dogs have had K9 units on the road in no time)   
After the class, certification can be done.
Please check for upcoming classes at the seminars&classes tab on this website for dates of classes or if you want more info  mail us at  ronindogs@gmail.com
All dogs we have are from our own breeding program or selected puppies out of the KNPV bloodlines.
The pups we buy have to pas our tests and have a known bloodline ( we do not buy from unknown orgin)
Sometimes we buy young adults but again they have to pass our tests.
All dogs we have are trained by our own trainers who use our proven Methodology.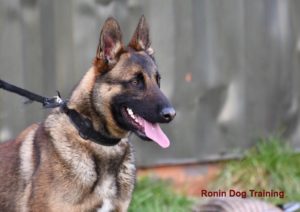 Shipping worldwide is available.
Working dogs available at Ronin all come with (unless stated otherwise):
A guarantee (up to 3 years) on health and workability.
Xrays of elbows hips and back.
European passport
Health certificate
Regular shots and rabies.
For all fully trained K9's Handler training to transition the dog from the trainer to the handler is included!!!!
Extra on multi purpose patrol dogs:
Wide Flat collar with handle
Muzzle
Tracking harnass
5 meter tracking lead
2 meter lead
2 reward objects (Julius k9 or gapay ball)
Extra on any other trained K9:
Wide flat collar with handle
2 meter lead
2 reward objects (Julius k9 or gapay ball)
We have half trained and fully trained single and dual
purpose dogs available
Puppies
Pure workline German shepherd puppies are available soon. Belgium and Dutch shepherds are available on request.
In training
More 14-18 months old male dogs are added to the program.