---
Our first PTSD dog has been donated and delivered personally by me. As a thank you for this PTSD dog named "Loki", we got the Creed from Andrew Wilkinson! This to display in our facility. I feel very honoured! I feel this donation was worth every penny. We will continue with training dogs for this. Again Randy Gagnon (Texas Commercial Diving Inc) and Marc Kooremans (MCK Engineering) Thank you for your huge support in our cause!
---
 Please help a veteran!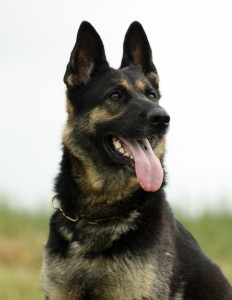 On a regular basis I get a call, mail or text from Veterans who ask me about dogs. They never ask but after some talk I find out that they are in the need for an PTSD Dog. As you know Post Traumatic Stress Disorder is an almost unspoken result of Soldiers, Policeman or civilians that encountered high levels of stress caused by unforseen violence that just stays in their mind. For them the world will never be a safe place as they feel violence can happen almost anywere all the time. Nightmares because of it give them even no safe place while sleeping.
How can a dog help?
A dog can be trained to be an guardian for such a person. The dog takes him out of a nightmare, reacts when the person shows signs of stress, gives the person a feeling of not being alone "the dog has his back".
I, as a dog trainer for special dogs, have access to these dogs. I can train them to become PTSD dogs. Because of that I can donate almost 50% of the costs. If we can raise the other 50% we can give (donate) this dog to a Veteran that has no funds  himself. For available dogs and more info you can always contact us!
Think its the least we can do for a person that gave so much to us and is paying a price for it!
Feel free to contact us on how you can help and make a donating to help these veterans in need!