Ronin Dog Training seminars and classes are for Police or Military working dogs. All the training methodologies are biased towards getting the dogs ready for real work and are not sport orientated.
:: Regular Ronin Dog Training Seminar ::
This Seminar is an introduction to the Ronin Methodologies.
It is a 3 day seminar and gives you insight to a training Methodology that is proven to produce strong willing to work police or military dogs or working dogs. By understanding the concept gives you the ability to train and troubleshoot a working-dog used for Tracking, detection and apprehension.
:: 3-day Seminar (or longer if requested) ::
---
Decoying for Police and Military dogs Classes to APCA standards!!!!!!
The selection of good dual purpose dog for your program depends a great deal on someone who can read and feel the dog during the test. The information given by the dog during test says everything about if the dog is just showing "trained behavior" or if it's in the genes. Also if the dog has already had prior training and how well (or bad) its done.
This information and then a good build-up aggression program results in a solid street dog that does the work to the full capacity of that dog. This prevents a false feel of safety by the K9 officer and his fellow officers which happens very often with pure prey-build aggression training.
A solid street K9 is essential for a K9-officer's safety.
Decoying for Police and Military dogs is a very misunderstood discipline. Too often the dogs are trained in the wrong drive on the wrong time resulting in dogs not ready for the street.
To be a decoy for your unit or department is not about only "catching dogs" or being the "guy in the suit" and for sure it's not about trying to look scary or though. It's about reading the dog in which drive he or she is ,change it if needed and train towards the goal, creating  balanced fighting dogs for your unit.
IT'S THE DECOY WHO TRAINS THE DOGS IN PROFESIONAL BITEWORK.
HE EITHER BREAKES OR MAKES THE DOG.
Because a decoy must have a very good knowledge on what is happening in the dogs head and he must have a very good understanding of how a dog learns the decoy classes go in on full depth in dog training.
---
:: The Professional Decoy Class ::
There are 3 Levels in Professional Decoying. After each class you reach a level.
Level 1 – Training dogs
Understanding how to work a dog in a (hidden)sleeve and suit.
Stick and whip.
You know how to build a deep full mouth bite.
You have a clear understanding of the Decoys and K9 safety
In this level you have a clear understanding of the drives the dog works in. You are able to evoke the drives and work the dogs in them.
Level 2 – Training dogs in High prey and full defense
You have proven experience in Level 1
You Have a clear understanding of the use and when to use and safety of civil bite equipment and muzzles.
You can test a dog for suitability as Police K9
Level 3 – Master Classes
You have proven experience in level 2
You are able to set up training for dogs to get them to fight-drive level and troubleshoot.
You are able to instruct level 1 and level 2 Decoys.
The Decoy Classes are 5 days. Every reached level is at the end of the Class certified by the APCA.
request for updates or you want to host please mail us at ronindogs@gmail.com
---
:: All surfaces tracking and trailing seminar ::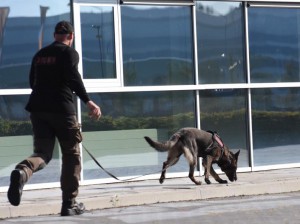 Tracking and trailing for police or military dogs has nothing to do with footstep tracking as done in IPO or other tracking dog sports.
The Seminar/ workshop is for police and military working-dogs that are used for only tracking or are multi purpose.
3-day workshop
Goal of the workshop is to give the handler and the dog the tools to train towards tracking and trailing on all surfaces in remote and populated area's.
The fundamentals of tracking and trailing.
Getting the focus.
Understand human scent.
The weather and our track.
Hot and cold tracks ,when and how much.
Track lengths.
---
CONTACT:
Netherlands: 0031 6 53 40 43 59
Email: ronindogs@gmail.com